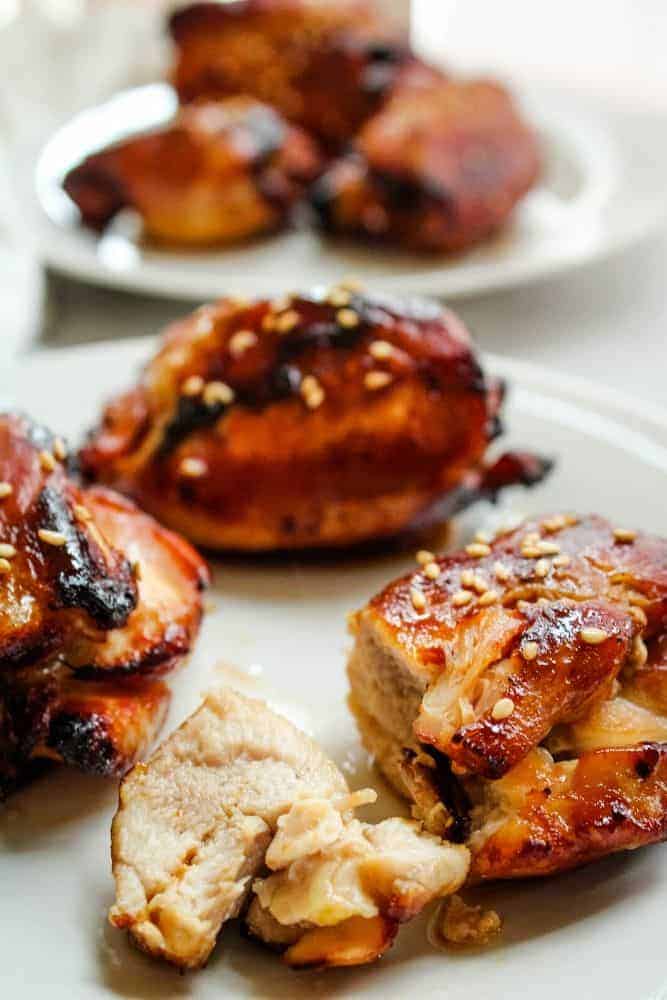 I marinate the chicken thighs either the previous night or first thing in the morning, so they are ready to go when we get home.
I love making my own Asian honey soy marinade because it only takes 2 minutes. It ends up being much cheaper than buying store-bought and it tastes fresher without all the added preservatives.
I made this boneless skinless chicken thighs air fryer recipe in my Cosori Air Fryer. The square basket allowed me to make the perfect amount of chicken thighs for my family of 4. Air Fried OreosPlay Video
HOW TO MAKE AIR FRYER CHICKEN THIGHS WITH HONEY SOY MARINADE
First, put together the honey soy marinade in a big bowl. Simply place the honey, soy sauce, oil, garlic powder, and ground ginger into a bowl and mix.
If you are using a low-sodium soy sauce, I recommend adding a small extra pinch of salt into the marinade. If you are using regular soy sauce, no extra salt is needed.
Place half of the marinade in a small bowl and set aside. You will use this half as a sauce at the end.
Set the chicken thighs on a cutting board and trim off any extra fat.
Add the chicken to the remaining hoy soy marinade and coat both sides. Cover with plastic wrap and place in the fridge for 30 minutes or up to overnight.
HOW TO COOK THE AIR FRYER HONEY SOY CHICKEN THIGHS
Once the chicken thighs are marinated, preheat your air fryer to 400 degrees.
Add honey soy chicken thighs in the air fryer in a single layer. I like to dunk each chicken thigh back in the marinade on both sides to make sure it's covered well before placing it in the air fryer.
Cook for 10-15 minutes, until the internal temperature, reaches 165 degrees.
Remove the chicken thighs from the air fryer and baste additional honey soy sauce on top. You can also pour any other desired sauce on top of the air fryer honey chicken.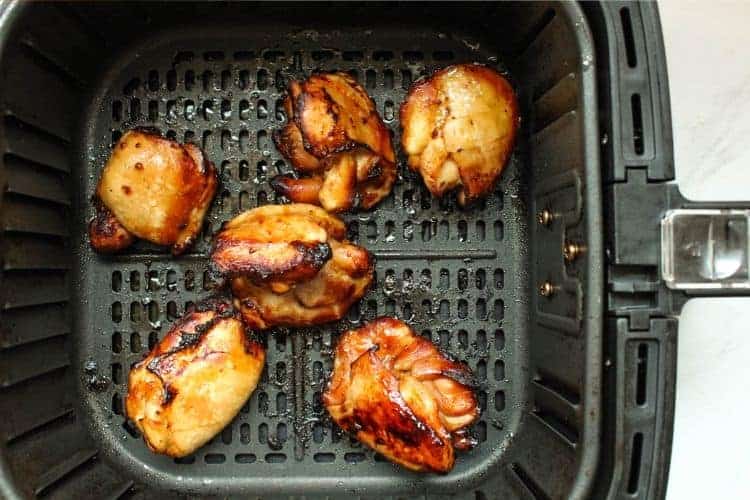 CAN YOU STACK THE CHICKEN THIGHS IN THE AIR FRYER?
I recommend cooking these air fryer chicken thighs with honey soy sauce in one single layer. Stacking raw chicken can cause it to cook unevenly.
You can, however, stack frozen chicken, like chicken tenders, in an air fryer since they're already technically cooked.
I FORGOT TO MARINATE THE CHICKEN THIGHS! CAN I STILL MAKE THIS?
I'm a busy mom of two little ones, so I get it. While testing this recipe, I made versions without it being marinated because I know it will happen to me once or twice in the future too.
Just simply toss the chicken thighs in half the marinade and let it sit for 5 minutes while the air fryer preheats then cook as normal.
While the marinade won't seep into the chicken thighs as much, the additional honey soy marinade added at the end will help bring the flavor out.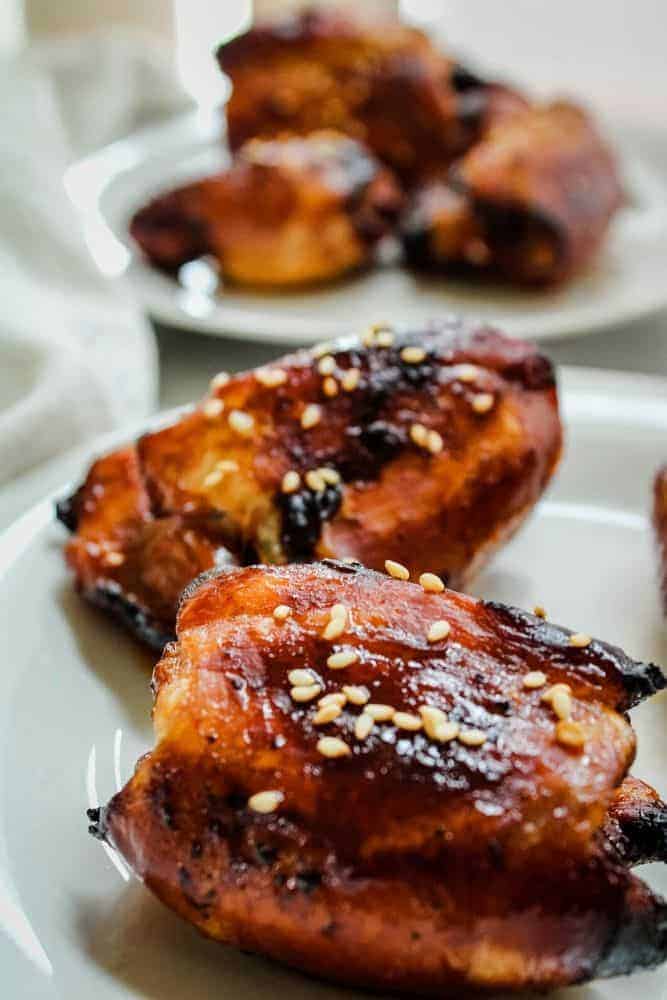 I NEED TO MAKE MORE CHICKEN, SHOULD I DOUBLE THE MARINADE?
I have made this recipe with both 1.5lbs and 3lbs of chicken thighs while still using the same amount of marinade.
PRINT recipe here