Fragrant fresh rosemary and little spice make these Rosemary Pepitas a crunchy, delicious, and healthy snack for all year long!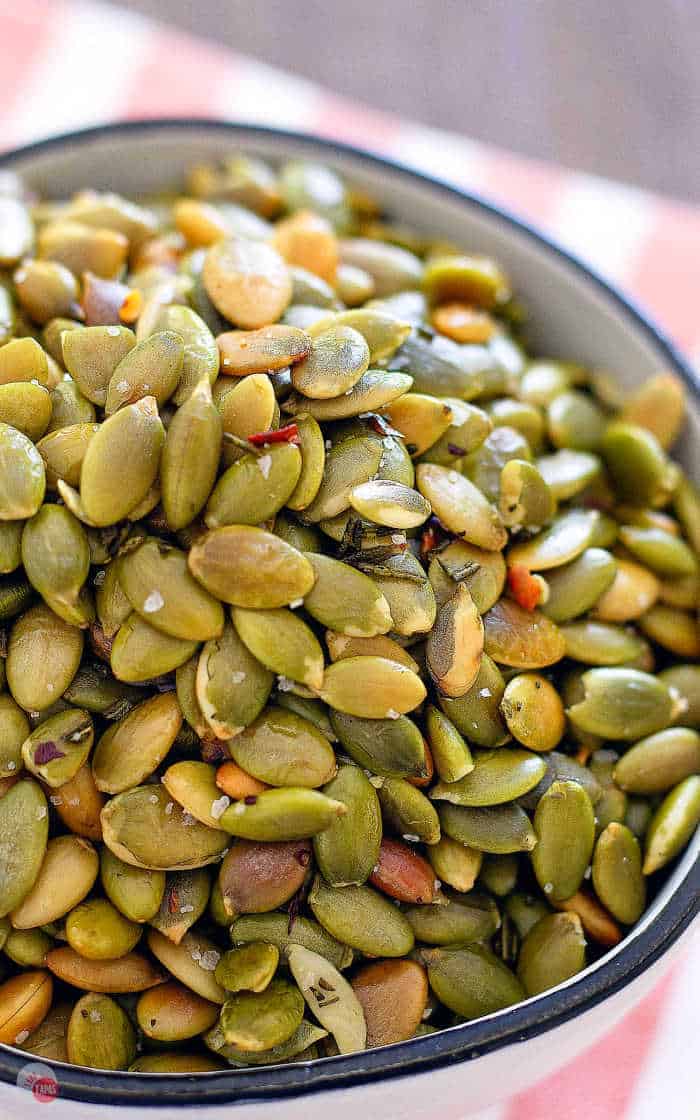 ROSEMARY PEPITAS
With all the fresh rosemary growing outside my front door, I just knew I had to make something to use some of it! One of my favorite things to have around the house for snacking is nuts. All types, there are very few nuts that I don't like. Pepitas are one of my favorites because they are small, get super crispy when you toast them, and they have a distinct floral and herbal flavor to them.
This makes them perfect for pairing with rosemary! Let me demonstrate!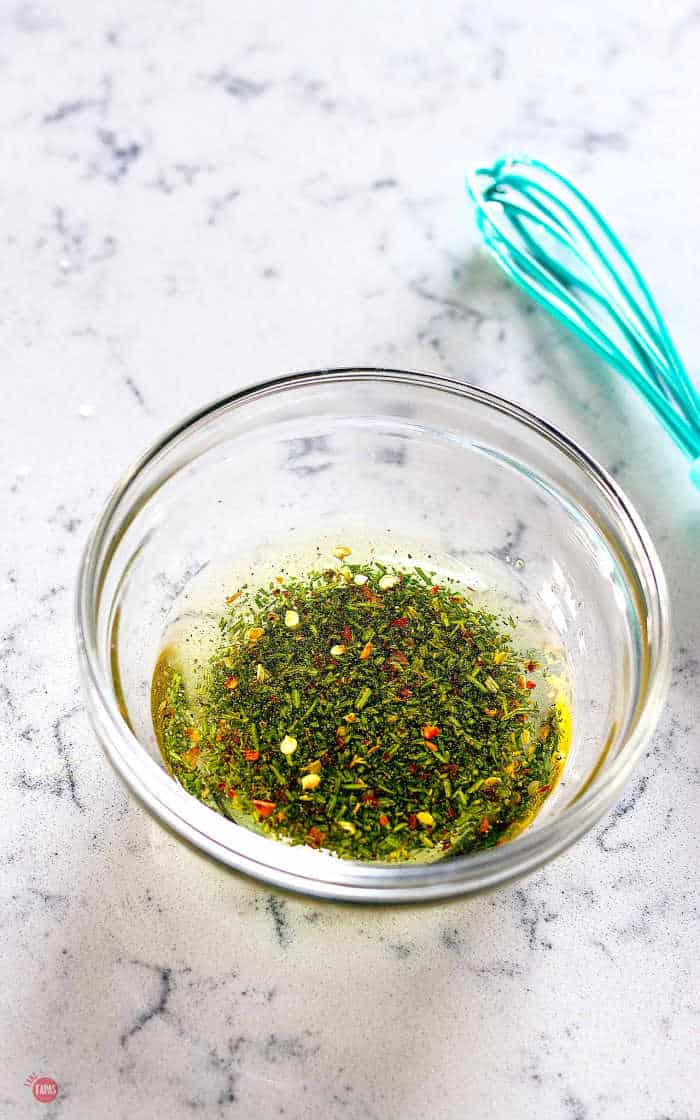 JUST TAKE ME TO THE ROSEMARY PEPITAS RECIPE ALREADY!
If you'd rather skip my (very helpful, I think) tips and tricks, essential cooking info, and similar recipe ideas – and get straight to this delicious easy ROSEMARY PEPITAS recipe – simply scroll to the bottom of the page where you can find the printable recipe card
PEPITAS RECIPE
In the past, I have toasted my hulled pumpkin seeds with a homemade Southwest Seasoning giving them a smoky and spicy kick. These are a favorite for putting on my salads and even on top of yogurt for a spicy and savory twist. Because these Rosemary Pepitas are so easy to make, you should always have some on hand for emergencies.
Pepitas, because of their small size, don't take very long to toast and pair well with so many different flavors. Roasting or toasting pepitas can take place in either the oven or on the stove top in a pan. I prefer the oven baking method because I don't like standing over the stove stirring when I can be doing something else, like laundry. Just kidding, more like Netflix!
If you are thinking about toasting your own pepitas, you can start with just olive oil and a light dusting of salt.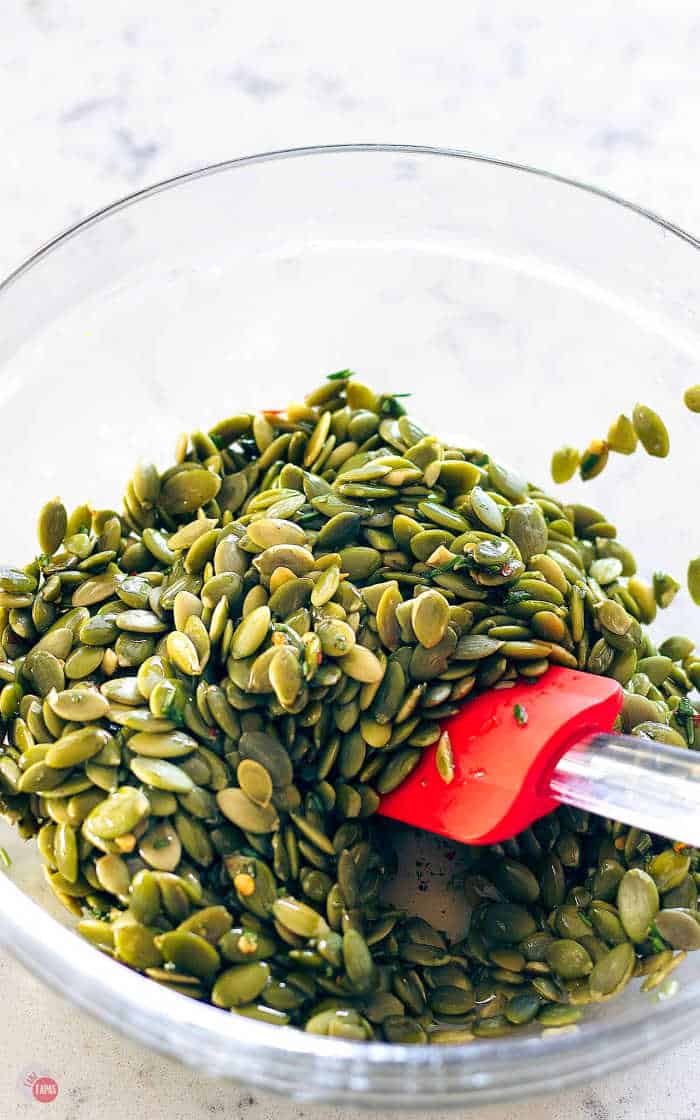 ROASTED PUMPKIN SEEDS
Once you get the hang of how long it will take to roast your pepitas, start experimenting with your favorite flavors. I love making them sweet or savory so try them with thyme, oregano, and then some cinnamon and sugar! I love roasted pepitas in dark chocolate so they make a great addition to your favorite bark recipe.
Don't forget the cookies too. The options are endless!
FAQ ABOUT ROSEMARY PEPITAS:
Q: Are pepitas pumpkin seeds?
A: Yes, they are pumpkin seeds that do not have a hull and are found in certain types of pumpkins.
Q: What else are pepitas good for?
A: They are great for snacking, adding to brittle and candy, and for adding crunch to your salad!
Q: Can you eat them raw?A: You can eat them raw but they taste better toasted. They take on a nuttier flavor and get crunchier too!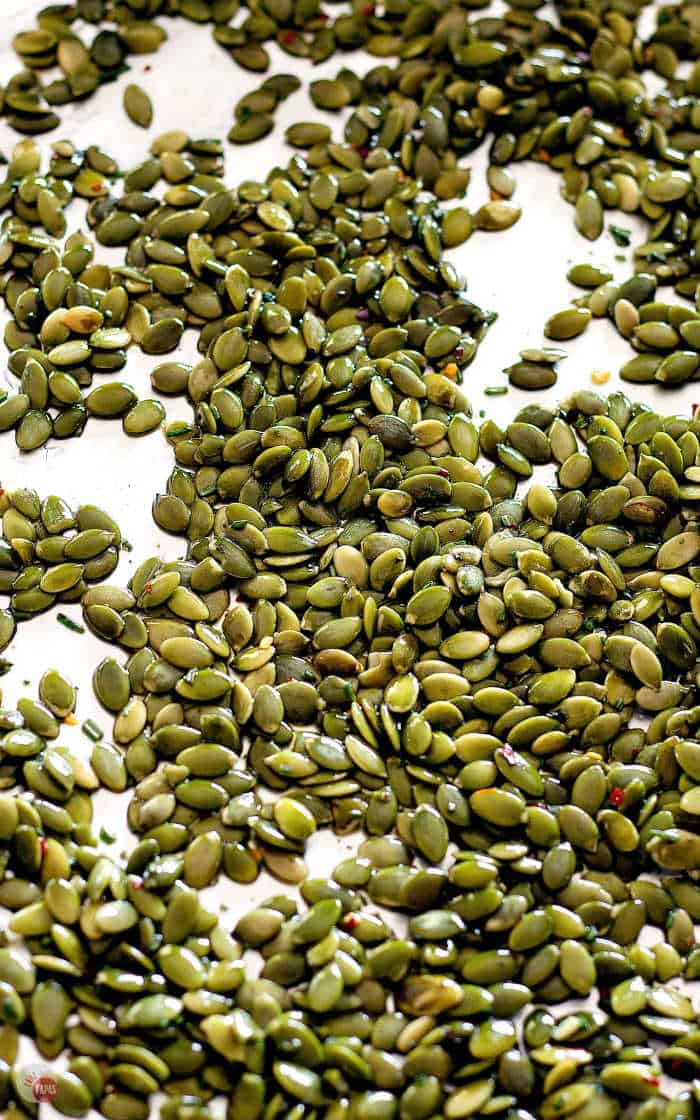 I'm sure you are going to love these Seasoned Pumpkin Seeds and they will quickly become your favorite snack! Once you make them, let me know how you like them and what your favorite flavor combinations are.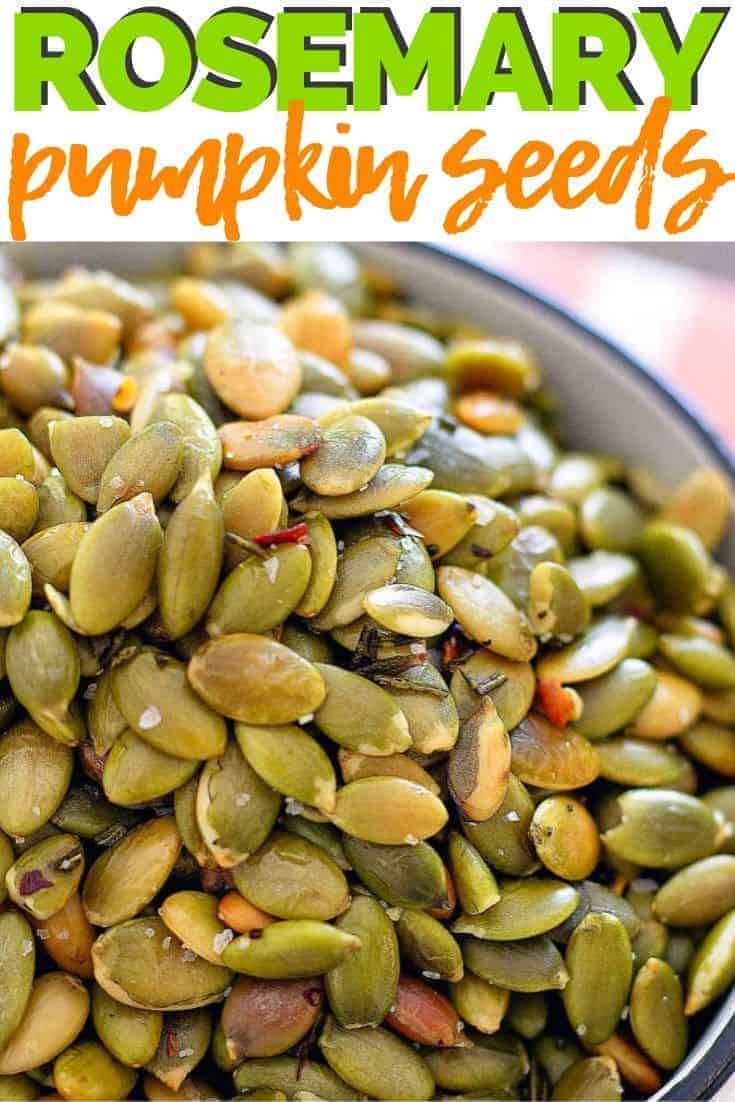 RECIPE PRINT *HERE*