ocolate + peppermint is such a delicious, classic flavour combination! If you are a lover of all things choc mint, then these decadent truffles are for you. Made using only four easy ingredients and just a microwave, these gorgeous chocolate mint truffles make the perfect after dinner or coffee treat. You can even box them up for holiday gifts!
I have lovely childhood memories of Christmas and holiday foods. But can I make a confession? I have never been a fan of Christmas pudding. Regardless, I would always eat some because my dear nan hid pieces of money through the pudding and I was all about that cash! Things were different back then, I guess? I'm not sure that's the done thing any more. I'd be a little nervous of the choking hazard! Or do people still add money to their Christmas puddings?
Although I never enjoyed Christmas pudding, I always looked forward to the chocolate after dinner mints my nan would serve after lunch. They came in a little gold and green wrapper and were my favourite part of the meal. I would try to get my hands on and devour as many as I could! After dinner mints are available all year round, but the taste always reminds me of those happy Christmases and lunch with my grandparents.
These bite sized truffles taste just like an after dinner mint. They are coated in a crisp, rich dark chocolate and have a smooth, fudgy choc mint centre with pieces of crushed candy canes for a little extra minty crunch. And the best thing is, they are SO easy to make!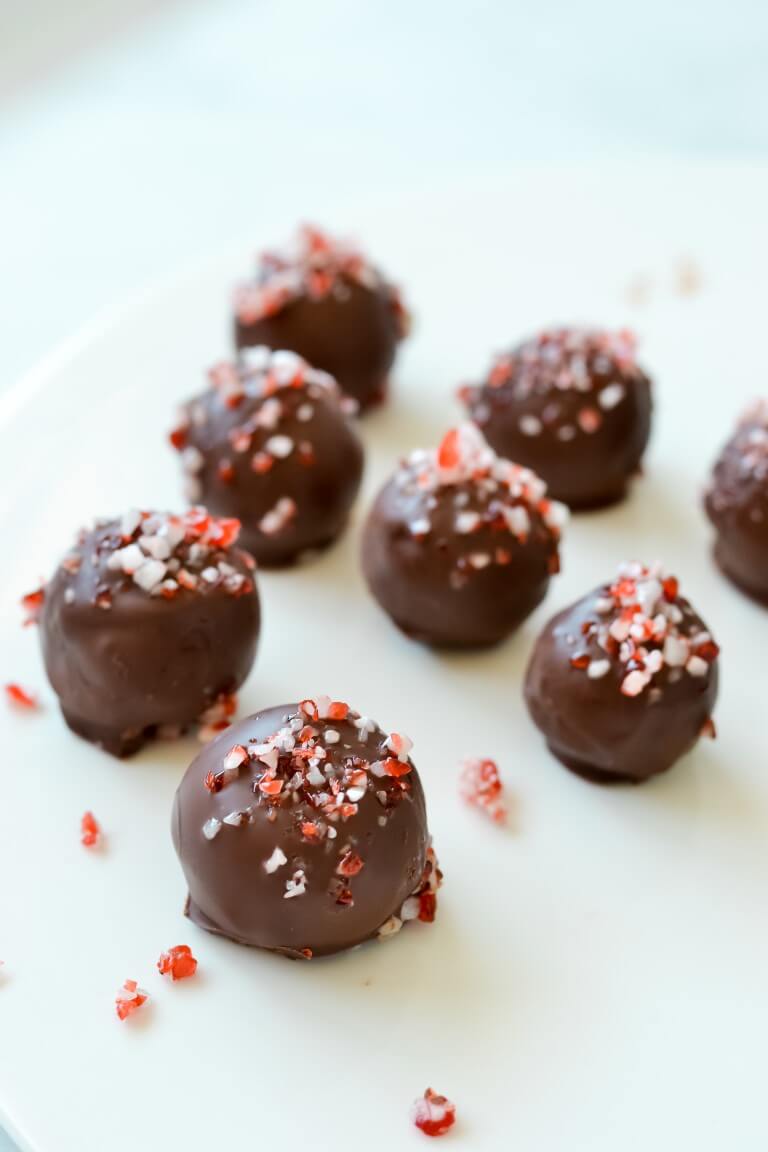 How to make homemade chocolate mint truffles;
These after dinner mint truffles are made using a box or two of actual after dinner mint chocolates which are the little squares of thin dark chocolate shells with the runny, gooey mint fondant filling. Although you see them more frequently at Christmas time, they are available year-round in most supermarkets.
My chocolate mint balls are made using the following four ingredients.
After dinner mints
Cream
Crushed candy canes (you can leave these out or use Peppermint Crisp instead)
Dark chocolate
The truffle filling in this recipe consists of 'after dinner mints' and thickened cream. You can melt the chocolate in a bowl over simmering water, but the microwave is just as good. Rather than a traditional ganache recipe, this recipe uses less cream. This is because the soft peppermint filling also makes the chocolate softer when melted together. Adding too much cream makes the filling too runny.
When it comes to the chocolate in this recipe, I recommend using good quality chocolate which will make a difference in the final result.
To make the chocolate mint truffles;
Melt the after dinner mints and cream together in the microwave (short 15 second bursts, stirring in between) and stir until smooth and glossy.
Stir through the crushed candy cane pieces.
Now comes the hardest part. Waiting for the ganache to set! I found that two hours was enough time for the ganache to chill and become firm enough to scoop out and roll into balls. If you leave it in the fridge too long, simply leave it out at room temperature to warm up before rolling. I used a teaspoon of the filling at a time and ended up with 32 balls.
Roll the truffles in your hands into bite sized balls and dip each ball into the melted chocolate using a fork.
Place each ball on a tray lined with baking paper and decorate with some melted white chocolate with a few drops of food colour, extra crushed candy cane pieces, or some crushed Peppermint Crisp and refrigerate until the chocolate has set.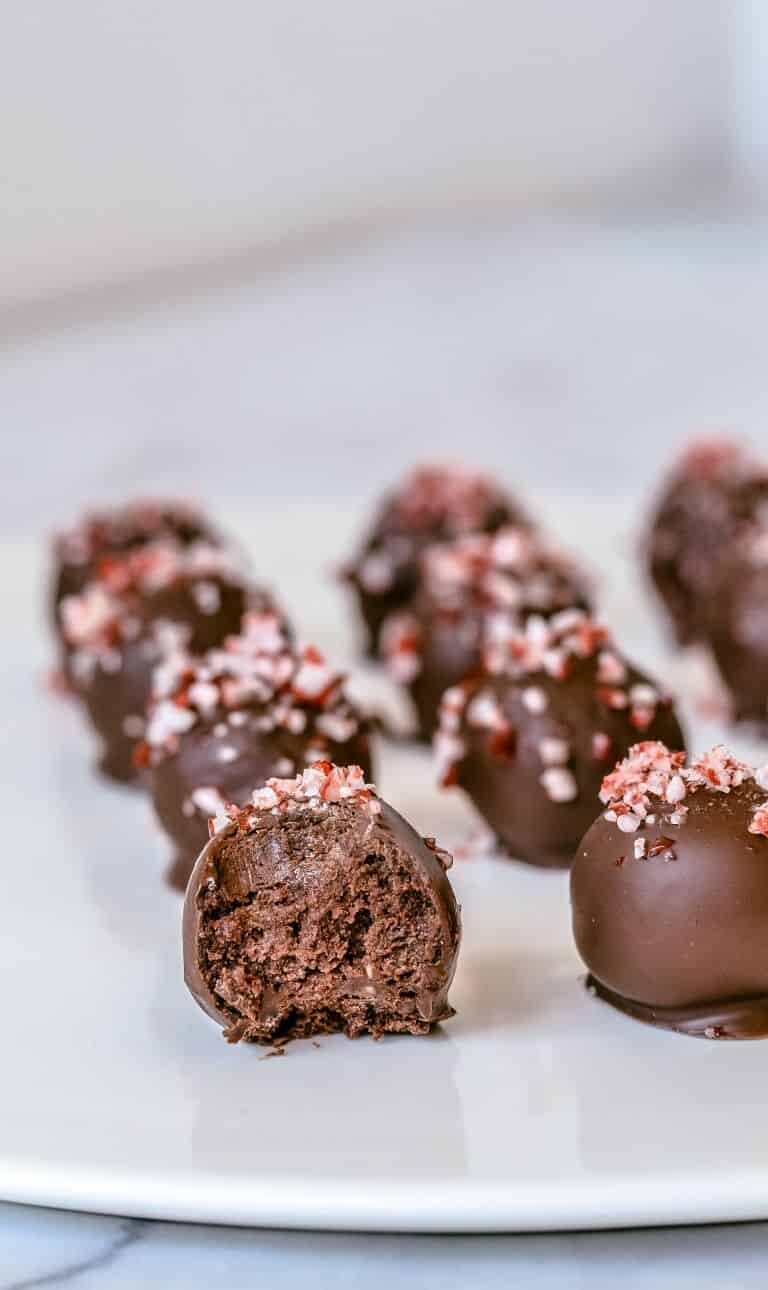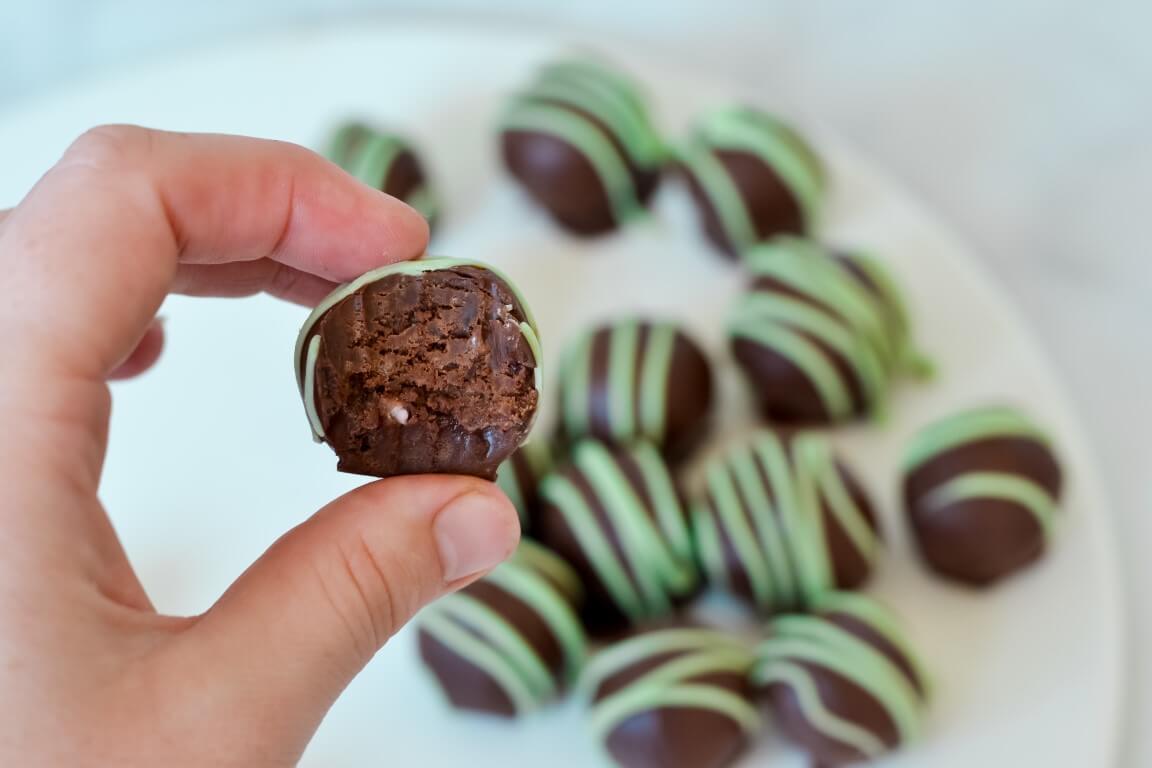 That's it! They really are so simple. Enjoy these mouth watering truffles at your next family gathering, or use them as an edible gift to give out at Christmas time for teachers, friends and family. They can be stored in the fridge for up to two weeks. If you are giving them as a gift, simply store them in a paper or cardboard box and keep chilled.