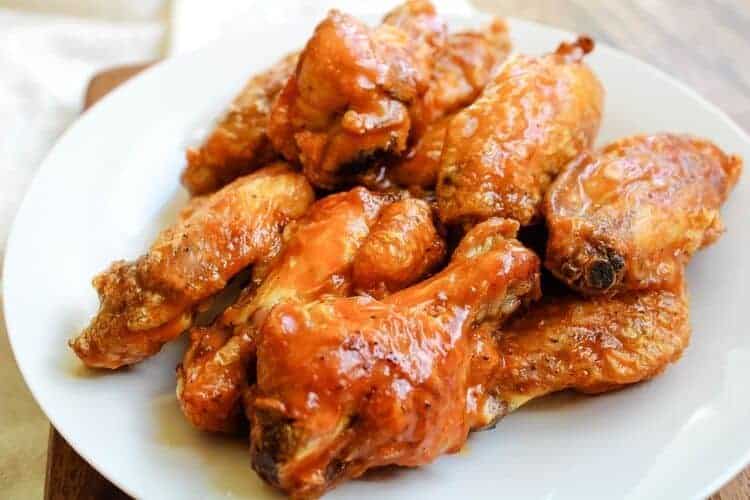 Free 5-Part Air Fryer Start Up Guide Series!
Signup for our newsletter to get your FREE Air Fryer Start Up Guide that will help you from day 1 with your air fryer.
Includes tips to cook crispy food and basic recipes that will get you cooking in your air fryer ALL the time!Subscribe
I remember the first time I wanted to make them in our Cosori Air Fryer, and he rolled his eyes. Nothing was as good as chicken wings in Buffalo.
AIR FRYER CRISPY CHICKEN WINGS
Air Fryer Buffalo Chicken WingsPlay Video
I absolutely love our Cosori Air Fryer. It has a square basket that allows for more cooking space and creates extra crispy food, like this recipe.
We now make them all the time for sports games, appetizers, and just some good snacking side food. They're amazing to make in a Nuwave, Cosori, and even the Power Air Fryer Oven.
I think the favorite part of this Air Fryer Chicken Wings with Buffalo Sauce recipe is how easy it is to make. It even includes a homemade buffalo sauce that's a make-ahead recipe.
The spicy wing sauce can stay inside the fridge for up to a month, but you will probably go through it much quicker than that.
It doesn't hurt that these chicken wings are MUCH healthier than deep-fried ones. They contain absolutely no oil but still get the crispy flavor you know and love.
HOW TO MAKE AIR FRYER CHICKEN WINGS THAT ARE KETO
I love buying chicken wings that are already trimmed and ready to go. Usually, I won't spend extra money on this, but when I want wings, I usually think about them last minute.
If you buy the whole chicken wings, separate the wings at the joints, creating a flat and a drumette, and discard the tips.
Pat the chicken wings dry. It's important they are as dry as possible to allow them to crisp up more. And that's my favorite part about making chicken wings in an air fryer.
Preheat the air fryer to 380 degrees for about 4 minutes. This allows for more even cooking so the entire chicken wing is crispy.
To season the Air Fryer Chicken Wings, coat them with a generous amount of salt and some pepper. The salt will help bring out lots of flavor.
Place the chicken wings in the air fryer and cook on 380 degrees for 20-22 minutes, shaking the basket halfway through.
You can use aluminum foil in the basket if you would like, but you will get a crispier result without any. Air fryers are designed to circulate the air 360 degrees and aluminum foil restricts the air from moving below the basket.
Shake the basket, then increase the temperature to 400 degrees. Continue to cook the Keto Air Fryer Chicken Wings for another 4-5 minutes.
Increasing the temperature gets the chicken wings nice and crispy on the outside and cooked tender on the inside.
Toss them in this homemade make-ahead Buffalo Sauce or other wing sauce of preference and enjoy!
CAN YOU STACK WINGS IN AN AIR FRYER?
Yes, you can stack wings in your air fryer, but just slightly. You can let the chicken wings touch, but do not officially stack them on top of each other or they won't cook evenly
If slightly stacking your wings, add an extra minute or two into the initial cooking time. It's also crucial to give it a good shake halfway through.