You can cook this recipe in any air fryer from a Nuwave Air Fryer to a Power Air Fryer Oven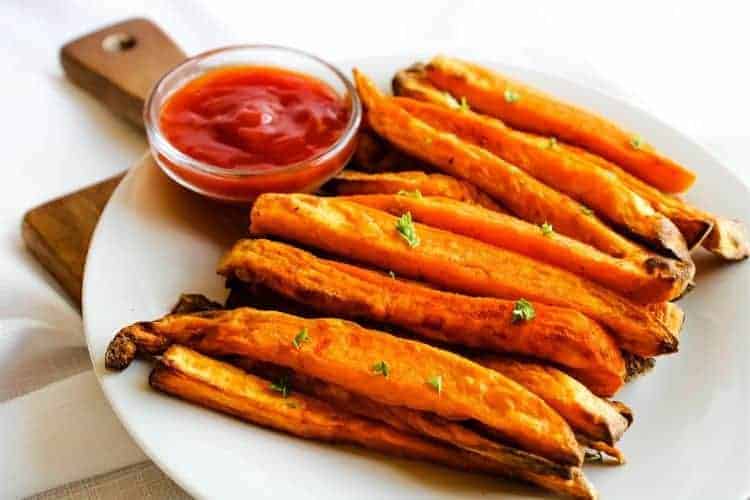 Free 5-Part Air Fryer Start Up Guide Series!
Signup for our newsletter to get your FREE Air Fryer Start Up Guide that will help you from day 1 with your air fryer.
Includes tips to cook crispy food and basic recipes that will get you cooking in your air fryer ALL the time!Subscribe
HOW TO MAKE SWEET POTATOES IN AN AIR FRYER
Fill a bowl halfway with water. Air Fried OreosPlay Video
Wash your sweet potatoes and peel off the skins. I like to make my air fryer sweet potato fries without skins, but feel free to keep them on as they are completely edible. They even add more nutrition!
Cut each sweet potato in half and then cut into fry slices. Place the fries in the bowl with water as you cut them.
If you're having trouble cutting your sweet potatoes, keep reading below on some tips to make it easier.
Drain the water in the bowl and fill it back up. Swish the sweet potato fries around and drain the water again. Repeat this 5-6 times until the water is clear.
Using a paper towel, dry off the sweet potato fries and bowl. I like to lie the fries flat on the cutting board with a piece of paper towel on it and pat it with another paper towel on top.
Place the sweet potato fries back in the dry bowl and add the olive oil, fine sea salt, garlic powder, and paprika. Mix to combine.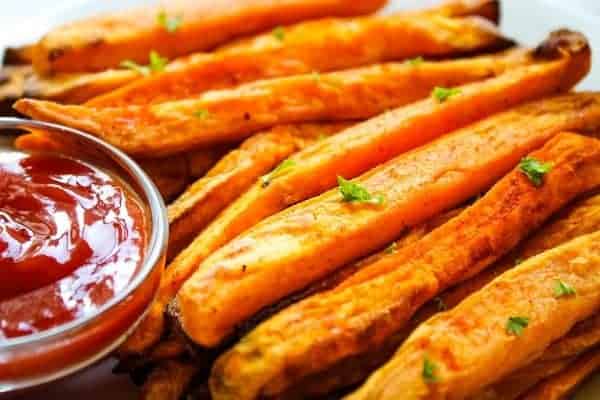 You can replace the fine sea salt with coarse sea salt, but I find the fine version spreads the flavor a bit more in this recipe.
Fill your air fryer up to half full with the air fryer sweet potato fries.
Heat your air fryer to 380 degrees F and cook for 15-18 minutes, shaking the basket every 5 minutes.
You should never fill your air fryer more than halfway full as it causes uneven cooking. Trust me, I've learned the hard way.
If you have a smaller air fryer, you may need to cook this recipe in batches. Enjoy your air fryer sweet potato fries immediately or refrigerate up to 3 days reheating them with the directions below.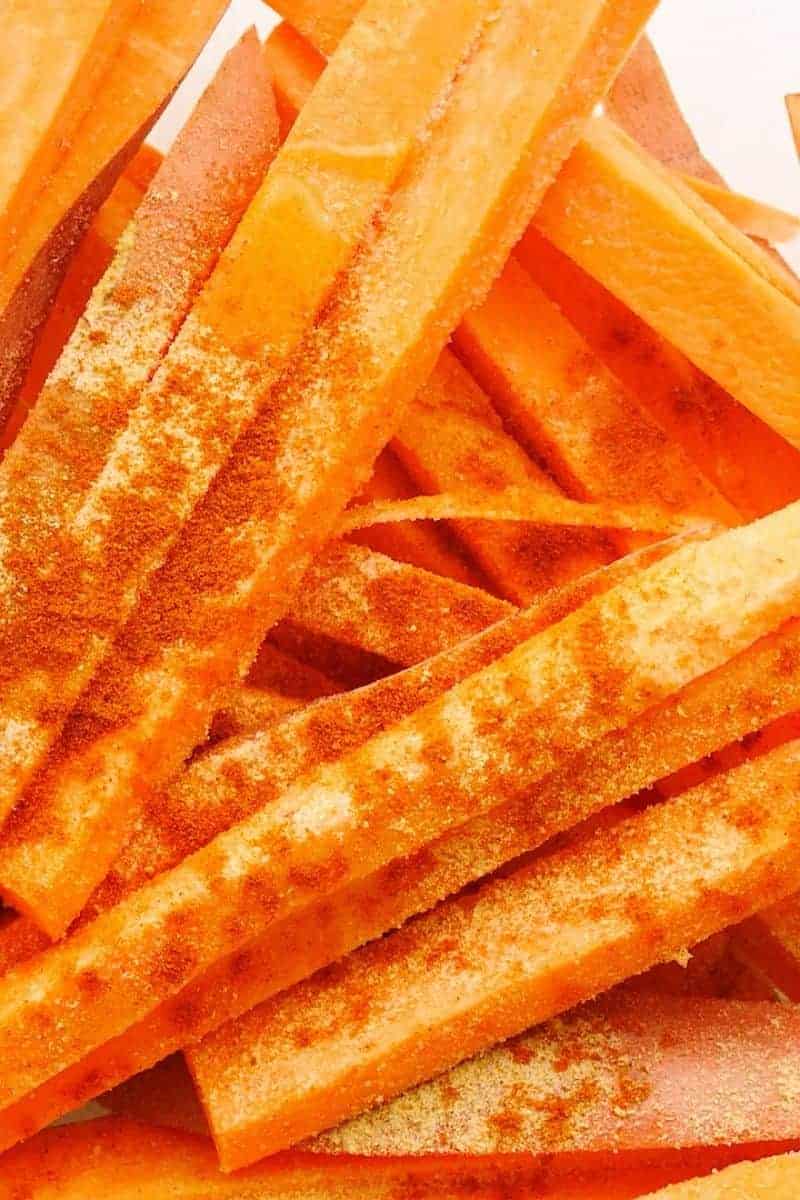 THE TRICK TO CUTTING THROUGH A SWEET POTATO
I can't tell you how many times I've had issues cutting through a sweet potato in the past. These tricks will help you cut through them much easier.
Make sure you are using a sharp knife. Your knife should be sharpened every couple of months and honed every week. A honing device is cheap to buy and will keep your knives much sharper, which makes cutting food so much easier.
I personally use this Victorinox knife. It's very reasonably priced and makes cutting sweet potatoes so much easier.
Speaking of knives, sweet potato is not a vegetable you use a pairing or even small serrated knife to cut. Use a sharp chef's knife to cut them.
If you are using a sharp chef's knife and it's still hard to cut through it (it happens to me too!), cut a small chunk off the end of one side of the sweet potato. Place the flat side on the cutting board, so the sweet potato stands tall and slice through the top down.
Once the sweet potato is cut in half, always cut with a flat side down.

DO I NEED TO SOAK SWEET POTATOES BEFORE COOKING THEM IN AN AIR FRYER?
Although sweet potatoes contain much less starch than normal potatoes, it's still important to get some out of the potatoes before cooking.
This recipe helps get that excess starch off the sweet potatoes by draining them several times. I have soaked the potatoes in water for up to an hour and found this technique works just as well as that but takes much less time.

HOW TO COOK FROZEN SWEET POTATOES IN AN AIR FRYER
I love cooking frozen food in air fryers. They are such a quick and easy way to heat up the food.
Place the desired amount of sweet potato fries in your air fryer, up to half full. Heat your air fryer to 400 degrees and cook for 15-18 minutes shaking the basket every 5 minutes.
Since each air fryer cooks differently, it's important to keep an eye on them. If they are cooking much faster, turn your heat down to 350 degrees and continue to cook.
Each bag of frozen sweet potato fries come in different fry sizes, so the time of cooking can vary per bag.
HOW TO REHEAT AIR FRIED SWEET POTATO FRIES IN YOUR AIR FRYER
Reheating foods in your air fryer is amazing. It's changed my perspective on reheated foods like pizza and quesadillas.
Air Fryer Sweet Potato Fries are an item that is not best reheated, but if you have extras, don't toss them.